Building the business case for an order management system
Mike Smee | 26.02.2020
There are many articles available describing what an order management system (OMS) will do for retailers from a functional perspective. But there is very little material available detailing cross-sector benefits achieved from actual OMS projects which is one of the reasons many retailers find it hard to create a business case.
An OMS can enable many additional customer journeys and facilitate truly multichannel retailing such as:
Providing unified real-time inventory visibility (for both staff and customers)
Processing orders regardless of source (online/mobile, POS, in-store tablets, kiosk or third party)
Orchestrating and routing orders for fulfilment from the most profitable inventory location (distribution centre, store, supplier or any combination of these)
Enabling store fulfilment and 30-minute Click & Collect (using tablets to pick/pack/despatch)
Processing returns (from any channel)
Providing management with controls and feedback
From a customer's perspective, it means that every product at every location across the retailer's estate and supply chain is available to them through whichever shopping channel they choose and via any delivery or collection method they want in the most rapid timeframe possible.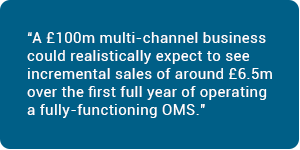 This is all good, but major technology investments are not signed off on the basis of functional ability alone – the gains must be objectively quantified in order to form a coherent business case. This requires a clear idea of the business benefits that will be gained and their impact on KPIs such as:
Online sales
Store sales
Markdowns
Store traffic
Members of the itim team have been involved in many OMS implementations across a range of retail sectors. Whilst there are many variables at play and no two businesses are the same, we have identified correlations and similarities across numerous case studies. We have compiled a guide, that walks through the Key Performance Indicators (KPIs) that retailers can expect to be impacted by an OMS implementation along with some insights about how the various gains are facilitated.