Increasing range and competing with the 'Amazons' without escalating stock investments
Ali Athar | 03.07.2018
The 'Amazons' continue to increase their range. And because they can combine supplier stock (marketplaces) with their own stock, they can do so without a proportionate increase in stock investment. This can put traditional retailers at a disadvantage - unless we change the way we think about stores.

Your stores are an asset, but only if you look at them as such. Most retailers are not leveraging store stock as much as they could. If you do this, you can both increase range and compete more effectively with the online players.

As you increase range, there are six things you can do which will give you an advantage:
Move away from 'cookie cutter' ranging to store-specific ranging – increasing localisation and locale relevance
Offer 30-minute Click & Collect using store stock
Use store stock to offer same-day despatch from store
Vary stock distribution to ensure you minimise stock, using larger stores as hubs for smaller stores (as practiced by Argos)
Stock rarer products (with lower rates of sale) further up the supply chain – the rarer the product the further up the chain you can stock it…
Move the customer order to where the stock is, rather than trying to keep all stock close to the customer
As catalogues and product options grow, consumers want more curated ranges and they want better (but appropriate) service. That plays to a traditional retailer's strength, as they can optimise stock and ranging in stores and offer services the 'Amazons' cannot.

Secondly, most consumers are used to varying service levels associated with outlying products. We can link stock levels to 'service levels'.

Sophisticated Stock Optimisation has to:
Optimise ranging – deciding what products to hold at which location
Optimise stock levels – with an eye to forecast demand and forecast returns at each point in the supply chain taking into account service level demand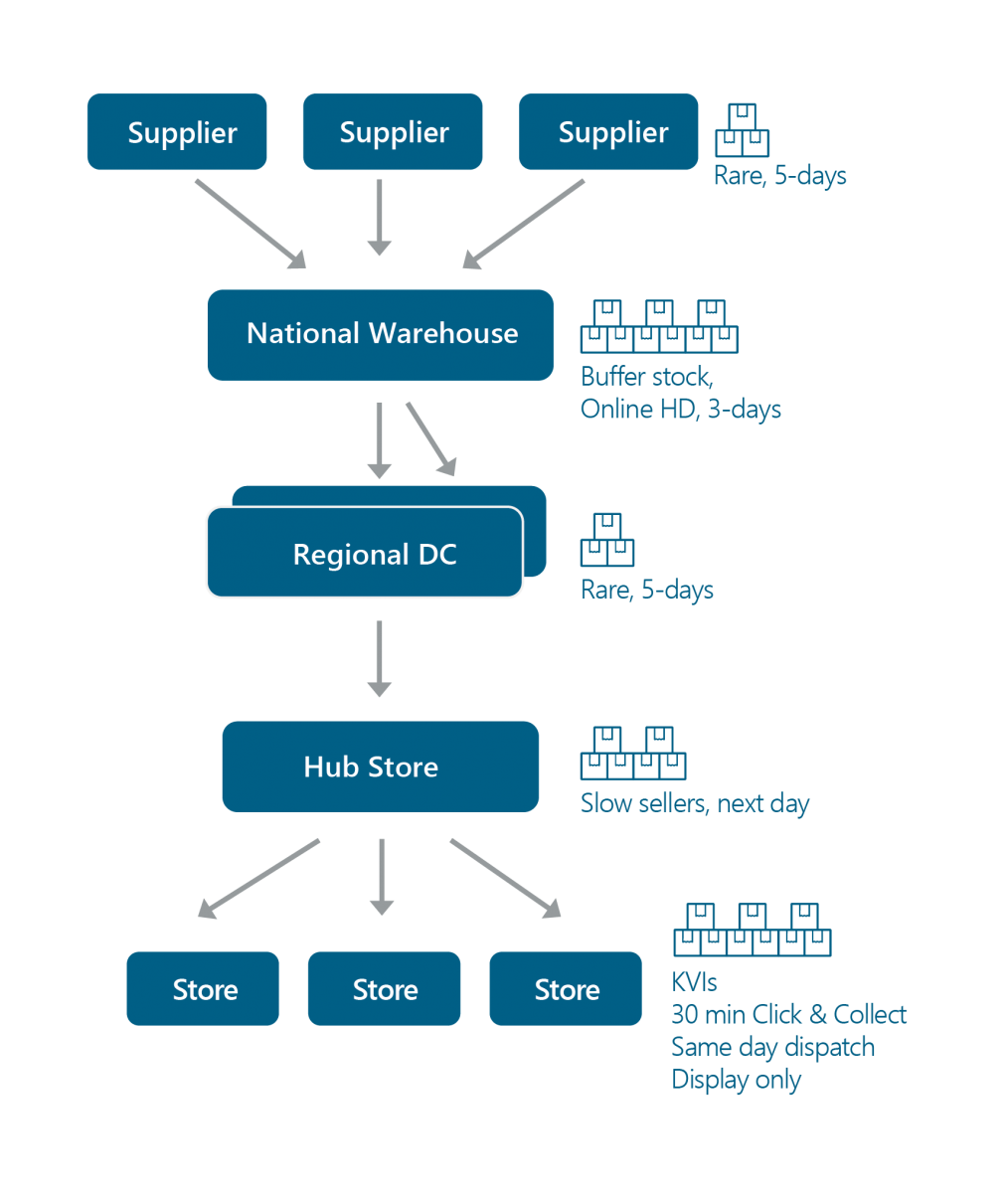 Sophisticated Order Management
has to ensure the website (and any store staff) can route an order to the most appropriate point to fulfil customer demand. It needs to do so efficiently at the lowest possible cost but within an acceptable service level based on the role of the product (e.g. key value items (KVIs), sell-a
longs (SAs)).

Inevitably this allows us to efficiently bring supplier stock holdings into the equation, enabling most retailers to compete with marketplaces.

Many of the online marketplaces operate on virtual stock. But they cannot offer the service you can, with the ease you can. Use that to your advantage.